Sponsor RCN: 7668404001
If you are wondering what this post is about... Above there is a list of products that Reliv offers and the RCN you will need when ordering... That is, if you chose too order anything. Below I will talk about a product from the list. I'm going in no particular order though!
~~~~~~~~~~~~~~~~~~~~~~~~~~~~~~~~~~~~~~~~~~~~~~~~~
FibRestore®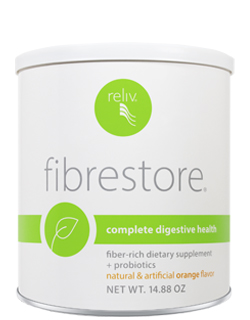 Digestive Health
Have you had your fiber fix today? Despite fiber's many benefits — digestive health, weight loss, blood sugar control, lower cholesterol — 95% of Americans still don't reach the American Dietetic Association's recommended daily amount.
FibRestore fills in the gaps for you with 10 grams of soluble and insoluble fiber per serving. Key antioxidants and a proprietary blend of 21 herbs plus enzymes deliver additional benefits: more energy, a stronger immune system and a better way to face your day.
Proven Effective: Reliv Now® and FibRestore have been shown to help lower risk factors for cardiovascular disease. View the study below.
FibRestore Product Information
Features & Benefits
Feature: 10 grams of fiber per serving
Benefit: You'll receive roughly one-third of the total 30-35 grams of fiber recommended daily to promote good health.
Feature: Soluble fiber
Benefit: It helps inhibit cholesterol production and slows digestion and absorption of carbohydrates to improve blood glucose control.
Feature: Insoluble fiber
Benefit: It reduces constipation, diverticulosis and the risk of colon cancer and other intestinal diseases; supports growth of "good-guy" bacteria in the colon and leaves you feeling fuller longer to enhance weight loss.
Feature: Beta Carotene, Vitamins C & E, potent antioxidants
Benefit: It neutralizes cell-damaging free radicals.
Feature: Papain and bromelain, two key digestive enzymes
Benefit: You can reduce inflammation, promote and maintain proper digestion, relieve bloating and indigestion and help your body function more efficiently and energetically.
Feature: Special blend of 21 bioflavonoidrich herbs, such as ginseng, garlic and chamomile
Benefit: You'll be promoting overall wellness thanks to the herbs' revitalizing properties.
Feature: Inulin, a pre-biotic fiber
Benefit: You can feel fuller without extra calories while you enhance calcium absorption and support healthy digestion.
Feature: Deliciously sweetened pineapple flavor
Benefit: You can easily mix it in any drink, including water, juice, milk or one of your daily Reliv shakes.
Study
Reliv Now® and FibRestore® may help with lowering risk factors for cardiovascular disease.
A team of scientists in the Philippines led by Jorge Sison, MD, conducted a study to determine the effects of Reliv Now and FibRestore in reducing major risk factors for cardiovascular disease.
The facts:
• Cardiovascular diseases rank number one in causing death globally.
• Lipid abnormalities like high cholesterol, triglycerides, LDL ("bad cholesterol") and HDL ("good cholesterol") are major risk factors for cardiovascular disease.
• Soy and fibers have been proven to help improve lipid abnormalities and therefore, benefit health.
The results:
Reliv Now and FibRestore…
• Reduced average cholesterol by 14%
• Reduced average LDL by 18% and 8%, respectively
• Reduced average triglycerides by 1.2% and 12.4%, respectively
• Reduced average uric acid by 10.4% and 16.7%, respectively
• Produced greater reduction in cholesterol and triglycerides among diabetic and/or overweight individuals
These statements have not been evaluated by the Food and Drug Administration. Reliv products are not intended to diagnose, treat, cure or prevent any disease.
~~~~~~~~~~~~~~~~~~~~~~~~~~~~~~~~~~~~~~~~~~~~~~~~~
I included the pdf files and any information I could so that you could check out the facts for yourself... I completly understand how important it is to be informed when it comes to things for your health... I will provide any information whenever I can as long as it is backed by the company because it is their claims that are what you want to prove or disprove. I hope these facts were helpful in your overall decision. I know I don't regret taking this with my shakes!
I'm gonna end this post here...
As always... Thanx for reading my posts!