Spotlight Review
.
.
Aki Miyagawa moved to Tokyo to pursue her dream to be a taiko drummer, but had a hard time balancing her strict training regimen with her part-time job. Now, after 15 years, she's returning to coach others for a taiko festival.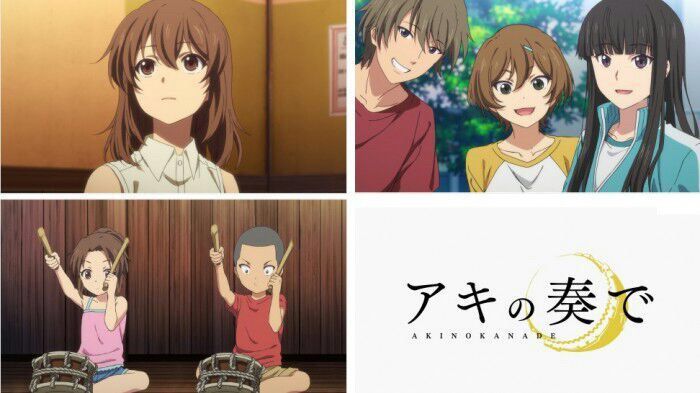 Originally this was supposed to be another anime but I couldn't bring myself to write about it since I couldn't watch more than part of the first episode... I know there are people under 18 who read these and I have to keep it family friendly... after saying that I will tell you the name of the anime I didn't do and why... The anime was "Aki Sora" and it was an incest based anime from what I could tell... This isn't to say that I won't or that I haven't written about this type of anime but this one just didn't sit ok with me. I'm sorry if I had mentioned the other anime before and you were looking forward to hearing what I had to say but I re-rolled the roulette and this is what I got!
The Anime can be watched on AnimeSeason.com...
Here is what they had to say about it...
Well... not really... They say the same thing about this as myanimelist does. Another thing about this one is that it really isn't an anime series... It is a movie! Yup a one-shot so to speak! I was so happy because it told a complete story and I could watch it all at once.
Now the reason I liked this one wasn't only the amount of
episodes
or the fact that you could get a full story all at once... It was the fact it was about something with a lot of
history
too! You should google Taiko at some point if you don't know what I'm talking about. Japan has a very rich taiko history...
There are still traditional Taiko drum makers found around Japan. I know
+Rachel & Jun
did a video about how the drums were made but that is another blog post I posted on another day!
Back to this movie... Our story is about dreams coming true and how giving up is not something you should do because just when you think it won't happen... It just might! here are a few pics from the movie... when you watch it you should see if you can figure out where these are from!
Yes there are bits of eye candy for those who like topless guys! Here is one of the others I want to show you... One for those who like girls... Though it's not as showy...
And now a picture of the group!
They all look like they are having so much fun! I'm sure it is hard work but I have to say that watching this movie really made me want to go see a real
performance
! While watching it you can really get caught up in the
rhythm
! I so want to see it!
They say the taiko drum beats into your very soul and moves you. Could you imagine that! Nothing but drums and rhythm... Pure music is what I call it when there is only one instrument type.. and taiko is one I would say is very pure!
So with that purity in mind let's rate it!
On a scale of 1 to 10 with ten being a "Perfect-Must-Watch" rating I give this...
.
.
.
10
.
.
.
Yup... The elusive 10! What can I say... I'm a sucker for any kind of anime, manga, or movie where someone makes their dreams come true... And in this one it might have taken her some time and struggles we didn't get to see but she did it... She didn't do it alone.. But it was soooo good!
I'm going to end this here now so you can go check it out!

As always... Thanx for reading my review!
Have a musically rhythmic day!