Sponsor RCN: 7668404001
If you are wondering what this post is about... Above there is a list of products that Reliv offers and the RCN you will need when ordering... That is, if you chose too order anything. Below I will talk about a product from the list. I'm going in no particular order though!
Slimplicity® with LunaRich®
This is another shake I drink but this one is for when I just can't seem to find the time to eat in a busy day! Here is what the company says on their site about it! (the image only shows one flavor)
~~~~~~~~~~~~~~~~~~~~~~~~~~~~~~~~~~~~~~~~~~~~~~~~~~~~~~~~~~~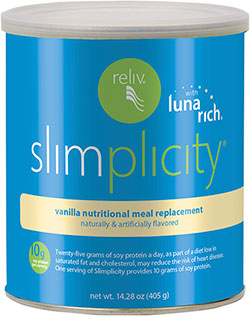 Weight Loss Meal Replacement
Finally — a meal replacement shake that actually satisfies your hunger and delivers real nutrition for real results.
Slimplicity is loaded with advanced ingredients to rev up your metabolism and keep you feeling fuller, longer. Meanwhile,
LunaRich
works at the epigenetic level in your cells to promote healthy gene expression, and optimal levels of vitamins, minerals and protein fuel your body throughout the day.
That's why people who use Slimplicity feel so much better and can stick to the program. With Slimplicity you feel great while you lose weight.
~~~~~~~~~~~~~~~~~~~~~~~~~~~~~~~~~~~~~~~~~~~~~~~~~~~~~~~~~~~
Slimplicity Product Information
Now lets talk about what it is that makes this drink sooooo good for you... Here are the reasons you should really pay attention to... Hope you like the list!
Slimplicity® Features & Benefits
Feature: A full range of essential vitamins and minerals
Benefit: Not only does it help you to lose weight, it also provides optimal nutritional support — it's weight loss the healthy way.
Feature: A full 10 grams of protein from whole soy powder
Benefit: It keeps you feeling fuller longer so you're not hungry an hour after lunch.
Feature: Advantra Z®, a patented thermogenic fat burner
Benefit: It supports fat burning with exercise and increases your metabolism without affecting blood pressure or heart rate.
Feature: Tonalin® conjugated linoleic acid (CLA)
Benefit: It speeds fat metabolism, and studies show it can help you maintain weight loss once you reach your goal.
Feature: L-Carnitine
Benefit: It burns fat and builds lean muscle to help reshape your body and add more definition.
Feature: ChromeMate®, the most readily absorbed form of chromium available
Benefit: Your body will be able to process carbohydrates more efficiently and will receive a boost in energy production, muscle development, fat and cholesterol metabolism, and regulation of blood sugar levels.
Feature: Low saturated fat, low cholesterol and a good source of dietary fibe
Benefit: It provides a great nutritional option for those seeking to take control of their health.
~~~~~~~~~~~~~~~~~~~~~~~~~~~~~~~~~~~~~~~~~~~~~~~~~~~~~~~~~~~
Now lets look at the video that they provide us about how genetics work and how LunaRich products can help your genes to make a better you!
This is so cool... I wish I knew this when I was young... I want to teach my children cause then they won't have the issues I have... I know it is all stuff you have to keep up with over your whole life and making bad choices will change the epigenetics no matter what age you start at.
I've started making the better choices again and YOU can too!
This is a LOT of information for you to digest... So I think I will end this post here.
Hope it was helpful!
As always... Thanx for reading what I post!
Have a healthy day!