Spotlight Review
.
.
The popular oneshot "Aphrodisiac Café" has now begun serialization as a series! This time the heroine is a regular customer at the Aphrodisiac Café, Megu. Everyday she takes the time to put on makeup, but the reason for that is… What kind of tea would be suitable for a troubled maiden?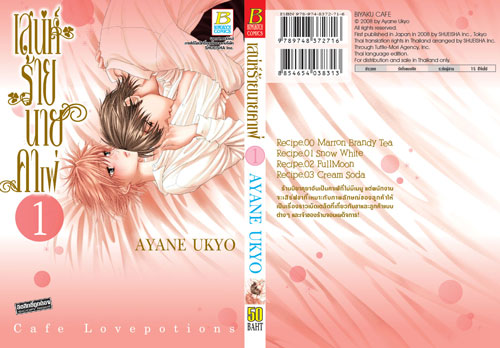 The manga this week can be found on MangaPark...
MangaPark: Biyaku Cafe
So by going off the cover alone I originally thought this was going to be a Yaoi with a girly pretty-boy but I was quite wrong. It seems that it's better fit under the tittle Gender Bender than any other in my opinion. Our young "Pretty-boy" is really a girl so yeah. It's so funny though because I wasn't the only one who saw her as a him... In fact almost everyone does. The person she partners with even started out thinking she was a brat lol.
Yup that's them!!! Anyhow...
It's not just our starter couple that find romance either... I've only read the first volume but I can tell this is probably going to be the way things are at this wonderful cafe. I mean in the little I've read I have already seen the birth of two possibly three couples... I say possibly because at the end of the last chapter I read they hadn't yet confirmed they were together but they had shared a kiss! Let us all wish them well... Although the outcome has probably already been written into the next few chapters... I just have to read it to find out.
Speaking of finding out... I think it is time to find out the score!
On a scale of 1 to 10 with ten being a "Perfect-Must-Read" rating I give this...
.
Yes it only got a 7. I know... I know.. What is wrong with me... Right? well it got a 7 because I think there are so many ways it can still go and so many of those are boring... If this cafe becomes a place where everyone under the sun has a hook up with someone else there then it is going to get extremely repetitive... I mean... How many times can you hook people up using the same setting without repeating yourself... I'd say the answer is not many!
Either way I really am looking forward to finding out how things will play out... I want to know how many couples come out of this little cafe after all... But I do hope that it doesn't get dull and that we get updates on the couples we already know about... After all... Aren't they the reason we fell in love with the manga to begin with? I know that's why I did! And on this note I shall end the review
As always... Thanx for reading my reviews!
Hope you have an romantic and dreamy day!