Spotlight Review
.
.
Otome Youkai Zakuro takes place in an alternate version of Japan's Meiji Era. In this version of history, humans and spirits coexist side by side in the same world. However Japan is becoming more and more influenced by the West, and more people are accepting Western religions as their chosen faith rather than the more traditional Eastern faiths which have dominated the country for many centuries, leading to conflicts between humans and youkai.
To help ease tensions, an organization is established called the Ministry of Spirits made up of a group of male soldiers and a group of female youkai. Unfortunately things don't go as swimmingly as one would hope, as one of the soldiers, Kei Agemaki, is terribly afraid of youkai and one of the spirits, Zakuro, has an extreme dislike for humans who accept practices and traditions from the west. Life for these two is about to become a lot more interesting as they have to learn how to cooperate with their worst enemies!
The Anime that was chosen for this week can be watched on Crunchyroll... Here is a link for you...
Otome Yokai Zakuro
Here is what Crunchyroll has to say...
Demon Girl Zakuro," an ongoing favorite in Gentosha Comics's Monthly "Comic Birz," is being adapted into anime form! Watch Lily Hoshino's gorgeous characters in motion! This story takes place during the Westernization Movement in an alternate world where humans and spirits coexist as young half-spirit girls team up with army officers to battle against spirits who would do wrong! Onward with the spirits!
Now I'm going to link the PV for it!
The link will play the preview and then go right to the first episode.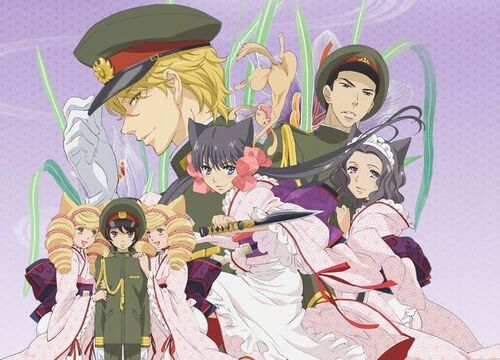 This is our mix of Characters... Let us meet them.. Shall we?
First up... The center of the story...
This lovely lady is Zakuro... I bet this picture has you wondering how she could hurt someone with such a small stick right??? Trust me she can... But not in a way you would think! Zakuro is complicated but simple too... Watch to learn more about this mysterious half demon!
Next up is....
Kei Agamaki! Here he is out of his uniform... But wait... It's not going to get all hot and heavy though that would be interesting... It has a kiss... Maybe two but that's really it for that kind of thing.
To be honest he has a serious problem right from the start... And that problem could be major if he doesn't get it under control! You should watch to see if he does!
On to the next team-up!
First in that set is...
Susukihotaru! I bet you noticed the stick in her hand... But unlike Sakuro.. She doesn't hurt anyone with it! Bet you wonder why she has one then... Watch to find out what makes this little Half demon so very special! Trust me she is!
Her partner is none other than...
Riken Yoshinokazura... A man of few words! Could there be some romance between them or is it strictly business???
Our last team is the only one with three members in it!
For this reason I will introduce them slightly differently... First up is...
Ganryuu Hanakiri! He is one lucky guy I'd say... The rest of his team are girls after all! So lets meet them now....
That's right! Twins!!! Their names are Bonbori and Hoozuki... Are they cute or what! Will their hearts bloom like cherry blossoms in spring???
They may tell you if you watch the show!
But wait... This isn't all about romance after all... These three teams work together to fix problems between humans and demons! That's right... There really is fighting!
Of all the fighters... Who do you think will be the best!
OK... Now time to rate it
On a scale of 1 to 10 with ten being a "perfect-must-read" rating I give this...
.
.
.
9
.
.
.
I think this is the closest to a perfect score we have gotten!!! I LOVE THIS ANIME!!!
The only problem is that there is only one season that I can find! I want to know what happens to them without having to go find the Manga... Don't get me wrong... I'll eventually read that too but that is besides the point!

Well I hope you enjoyed my attempts at making this entertaining!

As always... Thanx for reading my review!!!
Have a wonderful day!