Spotlight Review
.
.
By the mangaka of Kare Kano comes a new historical comedy. The comedy story is set in an ultra-prestigious middle school at the height of Edo-era Tokyo, over 150 years ago. It centers around a son of the ruling Tokugawa clan's Mito family and a daughter of an elite Tokugawa shogun.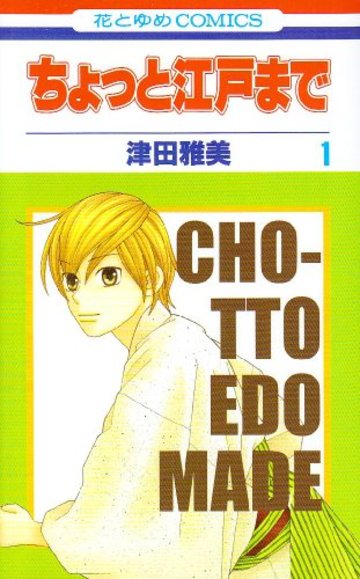 The manga this week can be found on MangaPark...
MangaPark: Chotto Edo Made
So this one was a very big challenge for me... I don't usually like historical manga... They are kinda hard for me to follow sometimes... Not always but sometimes. Anyhow this time was like that... I read the 5 chapters I always read and I really don't get the story at all... It feels like I'm following around the character but there is no point to where it is going. I could be wrong and there is actually a really deep meaning or something but it eludes me!
There were a few things I did understand though... 1) The father that dies in the beginning is a... ummmm How to say it.... I guess the nicest way is player. Though I'm sure that wasn't a huge thing back then like it is now. 2) This should also carry a gender bender label!!! 3) Even though I couldn't figure out the story-line, it wasn't a bad read... And that is saying something!

Here's something else I should be saying too... Here's the rating!
On a scale of 1 to 10 with ten being a "Perfect-Must-Read" rating I give this...
8
.
I said this earlier... It wasn't a bad read. The art was beautiful and the characters were likable in so many ways! I kind of wish I understood this kind of manga a little more because every time I read one I always feel like I'm missing out on something really cool. I'll keep trying to find one I'm interested in enough to want to read it all the way through but for now I haven't found it.
Even though it isn't my cup of tea I don't think you should judge it till you have read the first 5 or so chapters for yourself! Oh, and if you really like it then please consider supporting the Mangaka by buying the manga... Here I'll even give you a link to the first book here...
Amazon: Chotto Edo Made
And if you really like the Mangaka then check out some of thier other works... I'll link you to their Amazon page...
Masami Tsuda
There... I hope you find everything you need for this manga and this Mangaka with those links I've given you but if you have any other questions let me know and I will find answers if I can. Hope that helps a bit!
That's all... I hope you enjoyed hearing my opinion even though I didn't give anything away that would really impact you...
As always... Thanx for reading my reviews!
Hope you have an amazing and fun day!