Spotlight Review
.
.
Maiku Kamishiro has a problem. Actually, make that two problems. He has two young girls boarding at his house, each claiming that they're his long-lost twin sister! Which one is Maiku's sister? Which one is a total stranger?
You can read the manga here...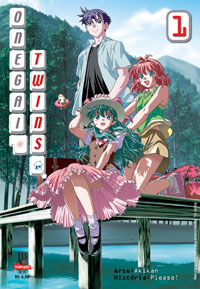 I have to say this one is one I was unsure of... The question "Who is actually his sister" is plaguing me now though so I really have to keep reading and find out. Yes I have read the first 5 chapters but it just isn't enough!!!
It isn't like it is moving along slowly... It has a great pace and the art makes it nice to read as well... The problem is there are sooooo many questions still. It seems like all of the questions lead back to the one I said before. Who is related to who.... I wanna know if they are all actually related... They are going off the fact they have the picture and the same color eyes... And that is the only peek into the plot or story that you are getting from me!
This is them...
I have to admit that the idea that they keep saying they have the same eyes is cute... I wouldn't have thought of using that as a major part of the plot.
Moving on... I think it is time to show you what I rated this little one at...
On a scale of 1 to 10 with ten being a "Perfect-Must-Read" rating I give this...
I gave it a 7 because I am still lost after 5 chapters... There is an anime of this but I want to read it all before I go to the anime... I know there is usually things in the manga that don't make it into the anime. I guess you could say I don't wanna miss anything and I still wanna see it in motion.
I have found that for me it is harder to read a manga once I have seen the anime so I am happy I had to read this one... Mainly that is because I want to watch and read it and if I had needed to watch it before reading it I don't think I would have been able to handle reading it. I would have probably gotten frustrated at how I still have so many questions when I know the answer already... But because I have no idea what the answer is I am ok still!
Well I'm going to end this post here and go back to reading!
As always... Thanx for reading my review!
Hope you have a wonderful day!