.
The Amanto, aliens from outer space, have invaded Earth and taken over feudal Japan. As a result, a prohibition on swords has been established, and the samurai of Japan are treated with disregard as a consequence.
However one man, Gintoki Sakata, still possesses the heart of the samurai, although from his love of sweets and work as a yorozuya, one might not expect it. Accompanying him in his jack-of-all-trades line of work are Shinpachi Shimura, a boy with glasses and a strong heart, Kagura with her umbrella and seemingly bottomless stomach, as well as Sadaharu, their oversized pet dog. Of course, these odd jobs are not always simple, as they frequently have run-ins with the police, ragtag rebels, and assassins, oftentimes leading to humorous but unfortunate consequences.
Who said life as an errand boy was easy?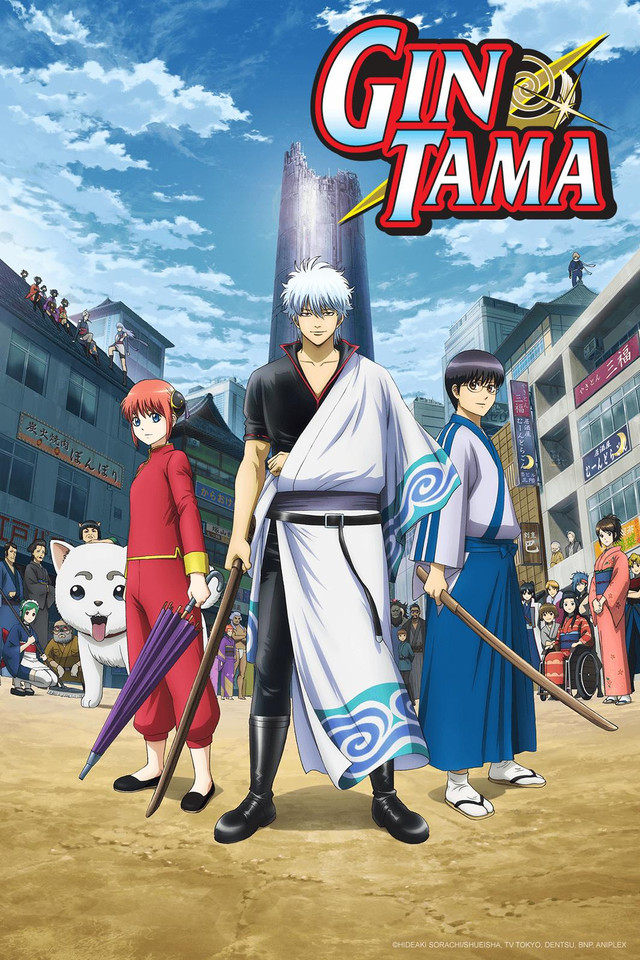 The Anime can be watched here...
Crunchyroll: GinTama
OMG this one was... Ummm... NOT what I was expecting... I knew a little about it before I started watching it and to be honest I was expecting ridiculousness... But what I got was not quite the same as I had envisioned.
First off... The first episode had us meet a lot of characters... Then the next 4 episodes went into how they met in the first place! That was a bit backwards to me but I decided to just see where it went since I already had to do the review. The other thing I knew about this anime was that it made fun of or picked on all other anime it could without going tooo overboard.... At least that is what they wanted to do.... I found myself playing a game of "What anime is this from" with myself so it worked quite well to suck in a trivia person like me!!!
I really couldn't figure all of them out either!!!
Speaking of figuring out.. Let me show you the rating I figured out for this one..
On a scale of 1 to 10 with ten being a "Perfect-Must-Watch" rating I give this...
.
I'm giving it such a high rating because it was fun seeing a lot of other anime being done almost like a play by the characters of this anime... All while they developed their own unique existence, characters and story-lines.
Lets not forget the art! It was very well animated and I have to say that if you are bored stiff this one will not just entertain you by being a good anime it will also wake your mind up while you try to figure out what anime is being enacted!
And with that last bit it is time for me to go!
As always... Thanx for reading my review!
Hope you have a Mysteriously fun day!!!
And don't forget to Live, Laugh and Love to the fullest!!!!!