.
So, there's this guy jee-han that entered a dangerous zone without noticing and acquired powers that make him able to interact with life using games and RPG logics.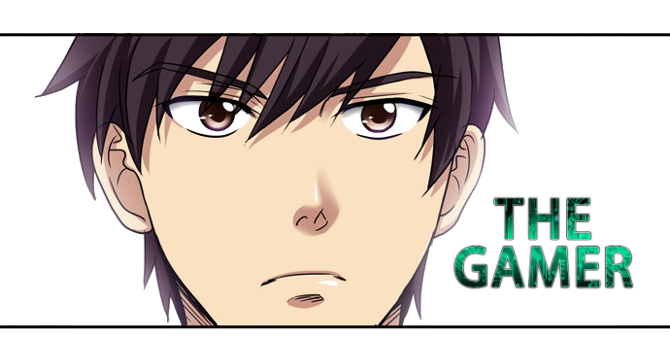 The Manga can be read here...
Okay... The Gamer has a terrible synopsis! It is way to simple to describe this one but whoever made the entry probably put it like that to make you want to see what the heck they are talking about... How could this character use game logic in life... And why were there dangerous zones in a place where a normal kid could end up wondering into them right? Let's explore this a bit...
Sooo.... I have read way more than the 5 required chapters with this one... I didn't even realize I had done so either! It was great! But back to the points... The dangerous zones are magic based places that can occur on their own but mostly they are created by people. In them it is very like an RPG dungeon in a game online. At least it is for our main character. He can also interact with other people like if they were players in a game giving them a boost...
Wait.... What am I doing?!?!? I'm giving away information!!! NOOOOOO! lol... Well since I am going as far as to give you that much info I had better give you the rating... At least that is what I'm supposed to be doing right?
On a scale of 1 to 10 with ten being a "Perfect-Must-Read" rating I give this...
.
Yes it got an 8... I got so lost in the story that I read so far before I realized it so I feel that at the least it deserves an 8. The art is beautiful and I really like the scroll one page per chapter rather than the 15-30 pages with one image per page that I normally see. I think that's why I like Webtoons.
Anyhow... This one is a great read because it had a good story and great art. However sometimes it feels like you have stalled and the story goes no where... But when I thought about it I figured this was done on purpose. It mimics the grind when trying to gain levels in some games.. Lots of repetitive actions that add up after a LONG time playing. So even that aspect became cool to me!
With that being said... I think I can end this review here. It's a high note after all and this was such a good read that I plan on keeping up with it so it deserves a high note to end on! Sooo Yeah...
As always... Thanx for reading my review!
Hope you have a fun filled day!!!