.
Potential Trigger for people who were abused in any way!
Lucy is a special breed of human referred to as "Diclonius," born with a short pair of horns and invisible telekinetic hands that lands her as a victim of inhumane scientific experimentation by the government. However, once circumstances present her an opportunity to escape, Lucy, corrupted by the confinement and torture, unleashes a torrent of bloodshed as she escapes her captors.

During her breakout, she receives a crippling head injury that leaves her with a split personality: someone with the mentality of a harmless child possessing limited speech capacity. In this state of instability, she stumbles upon two college students, Kouta and his cousin Yuka, who unknowingly take an injured fugitive into their care, unaware of her murderous tendencies. This act of kindness will change their lives, as they soon find themselves dragged into the shadowy world of government secrecy and conspiracy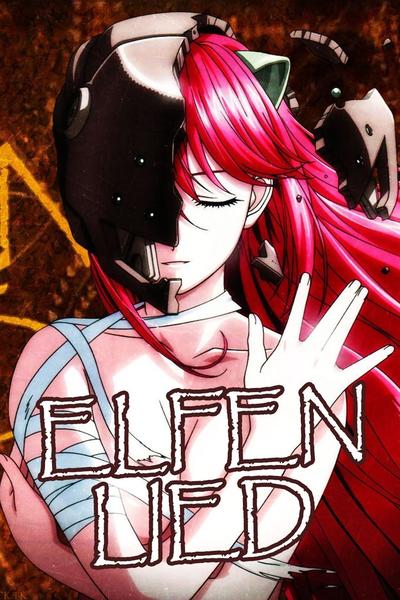 The Anime can be watched here...
As you can see this one is playing in a lot of places... I'm very sure there are more that I just don't know about too! It's a psychological thriller that is going to captivate you as much as it horrifies you. This is actually one my son showed me years ago and we watched it together. I had no issues with watching it again for the reviews though... I love the whole concept. When I watched it for the first time I remember thinking that this was a unique take on telekinetic powers.
Since then I've seen similar thoughts on how to show such a power but this is the only anime I've ever seen use actual invisible hands. I was really happy when she escaped and caused so much chaos! In the beginning (Before the half way point) you get to see some of the shit (please excuse the swears) she goes through before getting away... I don't care if the person is the result of an experiment or not... If they look mostly human, breathe, have a heartbeat, speak, learn, and do anything else we would normally call human... You do not... Absolutely do not... Hurt them like these poor children get hurt!
Sorry it's a sore subject for me... So be warned... You may find this to be a trigger to issues you had if you were ever abused in any way.
Yes that needed a bold and red font.... But now let's look at the rating!
On a scale of 1 to 10 with ten being a "Per
fect-Must-Watch" rating I give this...
It was anything but an easy watch for me considering I have a complicated past. But if I look at it from an outside opinion of someone who didn't have abuse in their history I find it interesting. If I look at it like someone who has been abused (Which I have) but keep it outside of myself it makes me feel less alone. I know it's a drawn character but someone had to have gone through some crazy stuff to be able to come up with shows, anime, manga, or movies that contain this kind of stuff... and when I think of that I feel like I'm not alone. If they can make something amazing out of themselves, so can I.
I do know that just because someone comes up with this stuff it doesn't mean they went through it at all... I get that... But I still feel less alone thinking this way. That's part of why I started writing these posts... To feel less alone or make others feel less alone. My reviews came later but I love doing them. Through my writing I can hopefully make a difference in someones life or just bring you cool info you didn't know. If you want to chat you can reach me by my E-mail or in the comments section. Remember... You are never alone!
As always... Thanx for reading my review!
Hope you have a comforting, pleasant, fun, happy, sassy, and amazing day!!!