Inaba Yuushi's parents died in his first year of middle school, and he moved in with his relatives. Though they did care for him, he could tell he was a burden. After he graduated, he happily prepared to move to a high school with a dormitory. Unfortunately, the dormitory burned to the ground before he could move in! Yuushi doesn't want to live with his grudging relatives, but it's rough finding lodging as an orphaned student with little money. He finally finds a room in a nice old building which seems too good to be true.

The catch is that it is a Monster House, a place where humans and supernatural creatures—ghosts, mononoke, etc.—live together. Another high schooler lives there, a cute girl named Akine, and she's completely unfazed by the monsters. In fact, she can even exorcise evil spirits! Yuushi's high school life just got much stranger than he ever bargained for!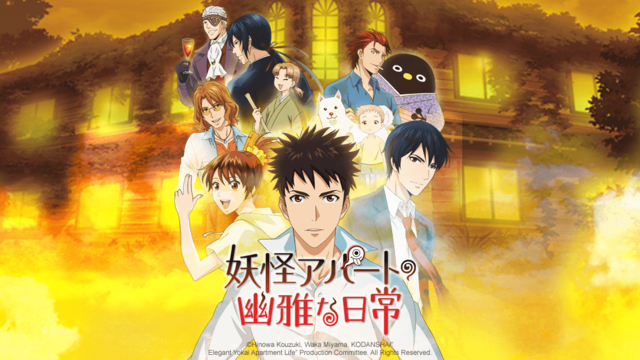 The Anime can be watched here...
This one has a few places you can go to watch it... Isn't that great??? I think it is because of the fact that it is so interesting... But let's face it... I knew from just the title I was going to love this one! I love Youkai anything!!! I will read or watch it and I would love to visit places where they may live! So this one really hit home with me... How cool would it be to live there for real!!!!
Yeah I know... It sounds cool but in the end there are very few people who wouldn't be scared out of their minds by something like this... I'm not sure how I would react... I guess it would depend if I'm alone or with someone I trust... But then there is also the third option where I'm with someone I don't trust... Hmmm lot's to think about on this one right???
Anyhow... Back to the anime... I feel like this kid has a normal reaction at first but gets used to it so fast that it's very abnormal. I could see him eventually getting used to it but by the 5th episode he didn't want to leave them ever... That was too fast for me but I do feel it fit in with the story so it worked out that he adjusted so well. I think if he took longer in the anime then it would have felt way to slow moving so the pace was good because of this. And now I'm rambling on about nothing... Sorry everyone!
I guess since I started rambling I should take a brake and rate it huh?
On a scale of 1 to 10 with ten being a "Perfect-Must-Watch" rating I give this...
Even with the unrealistic rate our star adjusts to everything I feel like it was amazing... I haven't finished it yet but I plan on binge watching it when I'm done writing this! The art is amazing and the story caught and held my attention... Not to mention it's youkai! I can forgive the few things that bugged me about it... Like the rate I mentioned or the lack of friends our young star has. I can forgive those because it is so good... You really need to watch it to understand though.. It's soooo worth the time to see it!
Let me know what you think when you're done watching but until then I'll see you next time!
As always... Thanx for reading my review!
Hope you have a spooky supernatural but fun day!!!