Spotlight Review
.
Staz Charlie Blood is a powerful vampire who rules the Eastern district of Demon World. According to rumors, he is a bloodthirsty and merciless monster, but in reality, Staz is just an otaku obsessed with Japanese culture and completely uninterested in human blood. Leaving the management of his territory to his underlings, Staz spends his days lazing around, indulging in anime, manga, and games.
When Fuyumi Yanagi, a Japanese girl, accidentally wanders through a portal leading into the demon world, Staz is overjoyed. But just as he is starting to feel an unusual attraction to her, his territory is attacked, resulting in Fuyumi's untimely death. She turns into a wandering ghost and the crestfallen Staz vows to resurrect her as this would mean being able to travel to the human world, something he has always dreamed of.
Blood Lad follows Staz and Fuyumi, soon joined by the spatial magician Bell and the half-werewolf Wolf, as they travel to find a magic that can bring humans back to life.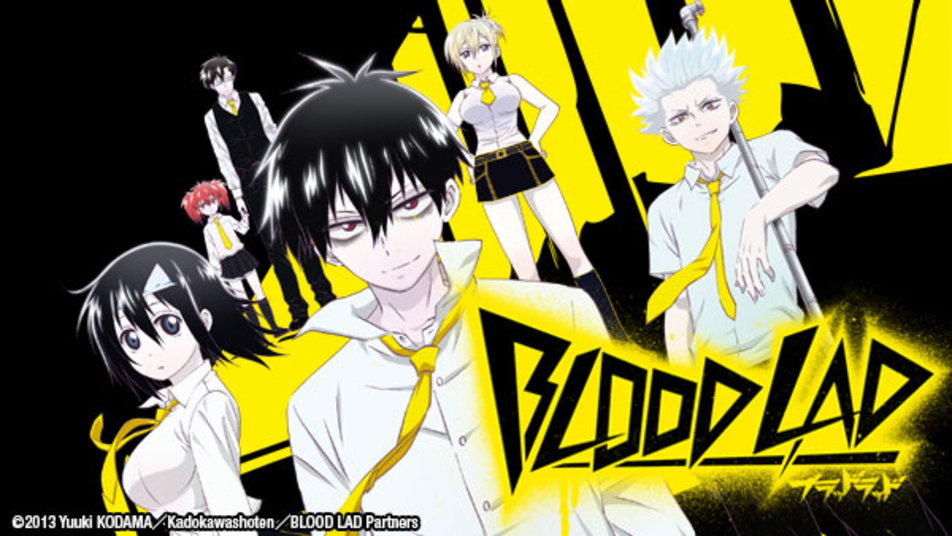 The Anime can be watched on AnimeSeason...
AnimeSeason: Blood Lad
The summary on this site was less informative than the one on MyAnimeList so I didn't put it here. Why waste your time reading the same thing over and over again after all... So I have to say... I am soooooo already hooked on this one! I have only watched the first 5 episodes but I can't wait to watch more! There is so much I've learned already but there are also a lot of questions I have..... Although one of those was already answered.... This kid Staz has such a complicated life and backstory!!!
This anime has 10 episodes that I could find... However... I'm sure those 5 remaining episodes are just as good as the first 5.... I wonder how they are going to wrap it all up though... I mean... Like I said... I got one question answered but I still have more of them that need to be answered for me to really consider it a good ending.
Like... For example... The biggest question I have and one that doesn't give anything away that you didn't already know... Does Staz
manage to bring Fuyumi back from the dead... Does she get to continue being a human or does she have to be a ghost forever... Or wait... Can she become another type of demon??? Yeah sorry for the spoiler... But I really don't know the answer to that last question... There has only been a hint at her being able to do that sort of thing and there was also a huge price that was hinted at too!
I may have given you a sneak peek, However, I won't be giving you the answer you want most after reading that last sentence.... What is the huge price would be what would come rushing into my mind after reading that! Is that what happened to you after you read it???
This one does things a bit different so far... I wonder if it will continue! What else will be revealed! On this note... Let's reveal my rating for this one!
On a scale of 1 to 10 with 10 being a "Perfect-Must-Watch" rating I give this...
.
That's right! It got a 9... I want to know how it is going to end... I love the art style and I really love the story! I think the story in the anime shows that the manga is going to be amazing... I really really want to find a copy of this anime's manga and buy it! This is one I would buy both the manga and anime of and I would watch and read it over and over again!
Before I end this review I want to link a few searches for buying this manga and anime so you could support the Mangaka if you like this work.
Blood Lad: Anime
Blood Lad: Manga (Book)
And now I think I'l say good bye and let you look over the sites to buy the manga or anime... Let's support their work together!!!
As always... Thanx for reading my review!
Hope you have a crazy fun supernatural day!