Spotlight Review
Nanami Momozono is alone and homeless after her dad skips town to evade his gambling debts and the debt collectors kick her out of her apartment. So when a man she's just saved from a dog offers her his home, she jumps at the opportunity. But it turns out that his place is a shrine, and Nanami has unwittingly taken over his job as a local deity!
Nanami has all kinds of new responsibilities she doesn't understand, dangers she's unaware of, and a cranky ex-familiar who's... actually pretty hot. What's a new-fledged godling to do?
The Manga this week was read on MangaHere... This is a link to all the chapters they have.
Here is what they have to say about it!
Momozono Nanami's dad, a man with a penchant for gambling, disappeared after accumulating a huge amount of debt. Thus, she was chased out of her house by the debt collectors. When she met a timid guy being chased by a dog, he told her that he'd give her his house. She believed his persuasive talk, but when she went to his house… it turned out to be a shrine. Moreover, a guy with fox ears appeared, which made Nanami even more confused. What will become of homeless and confused Nanami?

So for this Manga it is easy to see that these two explanations give us quite a bit of info... So I thought it would be good to introduce Nanami and Tomoe...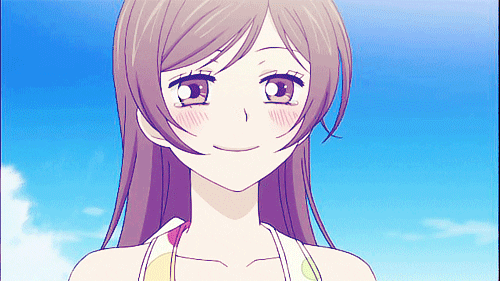 No she isn't always this plain... Here is her dancing preforming a gods duties!
Granted it's just pictures moving but it shows she isn't so plain... Check out the anime to find the whole thing though. It's on FUNimation as far as I know!
And here I'll show you that gorgeous fox who is her familiar...
He has two looks.... this one and the following one...
Personally I like the long hair better... But to each their own I guess!
Anyway... they go through some crazy adventures and even though I read past the 5Th chapter I was hooked after just the 1st one!
I'm not gonna tell you about the rest of the crazy characters she meets either... It would spoil the fun! sooooo... Here it is!
Time to rate it.
On a scale of 1 to 10 with ten being a "perfect-must read" rating I give this..
.
.
.
8
.
.
.
It's an 8 only because I haven't finished it and there are still things I'm confused about... However I can't wait to find out how it ends... And then I will be wishing for more... So I because I never want it to end I think it will only ever get a 9... cause ten means it can't get any better!
I'll end this with a link to the first book...
Kamisama Kiss: Volume 1
Hope you all enjoyed this Manga Spotlight Review!!!
Have a great day!!!
Oh... Don't forget to leave me a comment about what Manga or Anime you want me to review next!
I look forward to your input!!!