Spotlight Review
Synopsis
Sakurai Tomoki has been having the same strange dream since he was a child and would wake up in tears. Sugata, an upperclassman at his school, believes the dream to be of the new continent. Later that night, while waiting under the cherry trees for Sugata and his childhood friend, an angel called Ikaros comes flying down and his peaceful life changes from then on.
The Manga this week was really hard for me to get through since I have seen the Anime. I had to keep reminding myself this for a review. I wanted to just watch it lol. Anyhow, I read most of my Manga on one site... Here is the link...
They have never given me a hard time with adds or pop-ups and have a massive collection! I don't think they have an app yet but their site works well on your tablet or phone browser.
So here is what I found in the first 5 chapters. We follow Ikaros (she is the first one of the Angeloids we meet) and Tomoki (he is a pretty perverted teen) on their adventures. They meet up with and hang out with a variety of people over the course of the manga, however, since I am only reviewing the first 5 chapters I won't be introducing them all to you.
now lets do introductions!!! we start with...
Tomoki Sakurai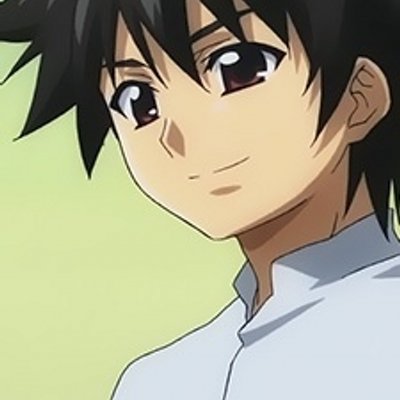 Don't be fooled by this face.. he is not quite so innocent! His mind strays from clean quite often with some crazy consequences from it! Now let me introduce the next person! Actually we meet her before we even meet Ikaros! Introducing
Sohara Mitsuki
She's a regular firecracker with a killer karate chop!!! She is also responsible for introducing our next person... He is considered crazy by most and it's true he seems that way since we meet him right before he jumps off a building with a home made hang glider! Introducing...
These two are both around before Tomoki meets Ikaros. Speaking of which here is a pic of her...
In the first 5 chapters we have people go missing, panties go flying, and we learn a bit more about our lovely angeloid! There is just enough information about these characters shown to us that we can fall in love with them quite easily.
.
.
.
Now to rate it.
On a scale of 1 to 10 with ten being a "perfect-must read" rating I give this..
.
.
.
7
.
.
.
The reason I gave it this is because it went a bit slow compared to the Anime. If you are thinking you want to read and watch this one then I suggest reading it first. It is definitely worth it!
Hope you all enjoyed this Manga Spotlight Review!!!
Have a great day!!!
Oh... Don't forget to leave me a comment about what Manga you want me to review next!