Spotlight Review
.
.

Hagure Yuusha no Estetica
.
.
About thirty years prior to the start of Hagure Yuusha no Aesthetica, a number of selected people from Earth were summoned to other worlds with only about half of them being able to return. One of the young people chosen was Akatsuki Ousawa, who was sent to Alayzard to defeat the Dark Lord Garius, which he did, before returning to his original world. Some of the successful chosen ones brought back little trinkets as souvenirs. Akatsuki, on the other hand, went a different route—he brought back the defeated Dark Lord's daughter, Miu, who is now posing as his long lost little sister!
Upon returning, Akatsuki and Miu are forced to join a special school called BABEL where they must train to one day master the powers they gained in Alayzard, in hopes that they will one day be able to serve mankind. Will Akatsuki and Miu be able to keep her true identity a secret or will their plan to live peaceful lives together go up in flames?
The Anime can be watched on FUNimation...
Here is what they had to say about it...
Story...
She's a pink-haired princess. He's a panty-snatching perv.

After saving a fairy-tale kingdom, Akatsuki returns to the real world with his prize—Miu, the busty daughter of the defeated DemonKing. It's one hell of a happy ending until they're forced to enroll at a school for magic users. There, Akatsuki can't keep his hands off the girls, Miu's constantly ballooning measurements make her a walking wardrobe malfunction, and it seems like someone is always plotting against them.

Jam-packed with extreme action and comedy, you're in for a bouncy ride that's sure to have you bursting at the seams. Lock your door and close the blinds: Akatsuki and Miu are about to take you places you never knew you wanted to go.
I have some prior knowledge of this Anime from a while ago... It has been a while since I watched it though so I went ahead and re-watched the first 5 episodes to jog my memory a bit.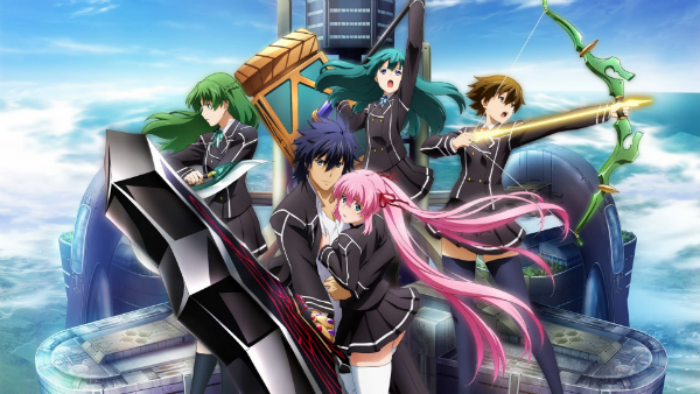 These two end up entangled with all the people in this pic.. And all before the first 5 episodes end too... Two are friend and one is... Well.... Kinda an enemy... Not to both but to him at least. I have to say the fact that he steals her Undergarments kinda earns her the right to hate him! Our green haired friend has it out for him from the first episode on and probably past the 5th on too... But since I haven't re-watched those yet I can't say definitively if that is true.
Boy does he look hot when he is in his Other World style clothes... check it out!
Such a bad-boy!!! And the girls look good too!!! I think that image is from Later on in the season I haven't re-watched yet... I decided to review this Anime because I heard there was a second season and I wanted to remember what was happening in the first season before I watched it!
Look forward to a review later on in the next few months or early next year being done if there really is a second season.
The First 5 episodes show a deepening bond for both our leads with people around them and it hints at big problems to come! I can't wait to see what happens next!
But...
Now it's time to rate it
On a scale of 1 to 10 with ten being a "perfect-must-Watch" rating I give this...
.
.
.
9
.
.
.
It's packed with Rivals, Lust, Love, and Fighting! What more could you ask for???
I'm going to leave you wanting to know more... Check out the anime to find out!

As always... Thanx for reading my review!
Have an entertaining day!